Area : 175 Hector
Location : Coochbehar district of West Bengal
Nearest Town : Alipurduar
Nearest City : Coochbehar, Siliguri, Jalpaiguri
Distance: 34 km from Alipurduar, 45 km from Coochbehar, 212 km from Shiliguri
Best Season : Throughout the year
Average Temperature : Max: 42 °C and Min: 14 °C
Average Rainfall : 320 cm
Rasikbil or Rasikbeel is situated at the foothill of Sintura Hill of the great Himalaya in the Coochbehar district of West Bengal. It is basically low water land (Bil or Bill) or swamp, where water may be available all over the year. There are five such a kind of low water land or marshland, namely, Neeldaba, Bochamari, Raichangmari, Shankhadanga and Rasikbil. These attract a lot of birds which make nests in the trees around this area. And a Bird Sanctuary is grown up with 175 hector area. Besides the bill a tribal village is also there.
Various kind of local birds are available in and around the Rasikbil all over the year and also some migrant birds are available in winter. The bird variety includes Cormorants, different varieties of storks, ibis, spoonbill, kingfisher, parrots, owl and many others. Famous water birds are Lesser Whistling Teal, Common Teal, White-eyed pochard, Red Crested pochard, Shoveler, Pintail, Wigeon duck, Grey-headed Lapwing and many more. There are also a dear Park, a python house, a leopard house, Aviary, a tortoise rescue center and a crocodile rehabilitation center. Tourists who loved to watch the local birds and migratory birds, Rasikbil is the real place for them.
Tourists who loved to watch the local birds and migratory birds; Rasik Bill is the ideal place for them. It is an eco-tourist spot situated just one and a half hour of drive from Alipurduar town. The Main attraction of that area is avifauna in and around Rasikbil. And as a bonus, there are a large aquarium, a deer park, a crocodile rehabilitation center, a tortoise rescue center and many more. And you can enjoy boating in the Rasikbil.
Some major destinations around Rasikbil are the Buxa Tiger Reserve (a famous for Royal Bengal Tiger), Rasikbil itself is a part of the buffer area of the tiger reserve, Coochbehar (situated just 45 km away from Rasikbil), etc. Coochbehar has a significant role in Indian history. Cooch Bihar town was the capital of Koch Kingdom. Some heritage constructions are available in Coochbehar. Coochbehar Rajbari and Madanmohan Temple are famous among them.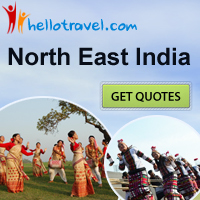 By Road : National Highway No.31 between Siliguri and Guwahati passes over Cooch Behar and Alipurduar. But there has no any direct journey from Siliguri. So you should follow break journey. North Bengal State Transport Corporation Buses, Bhutan Govt. Buses, Mini Buses, Private Buses and Taxi are available from Siliguri to Coochbehar or Alipurduar. Then you may take the Coochbehar - Rampurhat minibus which will take you to Rasikbil via Toofanganj in 2 hours. You will also get buses from Alipurduar. You may also go to Rasikbil via Kamakshaguri.
By Rail : Nearest railway station to Rasikbil is Kamashkhaguri. Kamashkhaguri is 6 kilometers away from Rasikbil. Some trains have stoppage at Kamashkhaguri which train is going towards Guwahati from Kolkata or other metro cities of India. New Jalpaiguri and Siliguri Railway Station are the main railway station in this area. After you arrive at New Jalpaiguri or Siliguri, you should follow the road journey to reach Rasikbil. Coochbehar is another near by railway station of Rasikbil.
By Air : Nearest airport is Bagdogra. It is a domestic airport. All major air services are available from all over India. Distance between Bagdogra and Siliguri is 13 km. You can find out various vehicles to come in Siliguri, and then follow the above road route.
You can find out forest Rasikbil Nature Resort (Ph: 033-22370060) at Rasikbil. Food and lodging are available here. The rate of cottage and dormitory fare are Rs.900. To check the room availability and online booking in the resorts of West Bengal Forest Development Corporation click here.
Reservation Authorities :
Tourism Centre, Govt. of WB
3/2, B.B.D. Bag (East)
Kolkata - 700001
Phone : (033) 22485917/22488271
Tourism Centre, Govt. of WB
M-4 Building, Pradhan Nagar
Hill Cart Road, Siliguri - 734403
Phone : (0353) 2511979 / 4, 2432561
Fax : (0353) 2511979, 2432561
WB Forest Development Corporation
6-A Raja Subodh Mullick Square
Arya Mansion, 7th Floor, Kol–700013
Phone: 033-22370060/22370061