Totopara name comes from the Toto tribes. The majority people lived in Totopara belong to the Toto community. Some Nepalese are also there, but it is very minimum populous. The total area of Totopara is nearly 8 square kilometres, which is located on the northern fringe of Jaldapara National Park (formerly Jaldapara Wildlife Sanctuary), one of the famous wildlife in Dooars and Southern area of the indo-Bhutan borderline for the largest population of the Indian One-Horned Rhinoceros in West Bengal.
There is a river Torsha flowing to the east of the village. Totopara divided into six small parts or sectors; they called it Gram or Gaon (Villages) namely, Panchayatgaon, Mandolgaon, Subbagaon, Mitranggaon, Pujagaon and Dumchigaon. Subbagaon is a Nepali-speaking dominated village and the people belong to the Limbu community of Gorkha. A primary school, a High School with hostel facilities and a primary Health Centre are there in Totopara. Total numbers of 1,184 Totos (according to with 2001 census) live in nearly 200 houses in Totopara. As on 2013, the numbers of Totos had increased to 1,346 (unauthorised source) and all of them lived in Totopara.
Toto People: Toto people belong in the Indo-Bhutanese tribal community. It is a very primitive inheritance, considered as Mongoloid people. Now a day's all Toto people concentrate in Totopara, 22 km away from Madarihat, Alipurduar District. They have flat nose, small eye, broad and square cheeks, thick lips and black iris.
Life-style of Toto-tribes
Quick Facts
Area
1,997 acres (Approx. 8 km2)
Altitude
183 m
Location
Alipurduar district of West Bengal
Nearest Town
Madarihat, Alipurduar
Distance
70 km from Siliguri
Best Season
October to April
Currency
Indian Rupee()
Time Zone
UTC+5:30
Toto tribes believed in joint family system as like as other Indian communities people, but nuclear family are also available. Monogamy is common form of marriage among the Toto but polygamy is not prohibited. Among the Totos love marriage is also acceptable. But divorce system is not accepted by them. One can remarry after one year of his or her spouse's death. A man can marry his deceased wife's sister but a woman must not marry her deceased husband's brother. Totos are very much conscious and conservative about their tribal identity, and marriage with other community people is not acceptable. In general four types of marriage are available in Toto community - marriage by negotiation (Thulbehoea), marriage by escape (Chor-behoea), marriage by capture (Sambehoea) and love marriage (Lamalami).
A traditional Toto house builds with bamboo, straw and clay. These are hut with four folded roof make with straw, and all roofs are joined at the top elevation and decline towards the side wall. Kitchen and cattle-and-poultry house remain separate from the main living house.
Basically main foods of Totos are making with millet. Now a day, they habituate with pure Bengali foods like- rice, carry of vegetables, dal, fish and meat. In each occasion they take a drink called Eu. The liquor Eu made from fermented marua, rice powder and malt, which is served warm in Poipa (wooden glasses).
Toto tribes define themselves as Hindus. Apart from the Vedic Gods the Totos have two main gods Ishpa and Cheima. Toto tribes believe that the god Ishpa live in the Bhutan hills and if he unhappy then they faces sickness. Totos offer him animal and drink Eu to pleased him. Other hand the Goddess Cheima protects Toto tribes from all kinds of trouble and sickness. Totos offer rice, fowls and Eu to please her.
Close to Total Extinction
The Totos are very conservative and marry within the tribe to preserve their ethnicity. This means marriages take place between cousins too. The result is that many children born from such wedlock become thalassemia. Research has revealed that the Totos have a high thalassemia carrier rate of 45 per cent. This has put the tribe in the danger of losing their members to the disease.
The only other option is to marry outside the tribe. But the members are opposed to the idea since their ethnicity would be at stake if they marry people from other communities. The Totos are caught between customs and ethnicity on one hand and science on the other.
In addition to this, recent finding by the Indian Anthropological Survey says that the average lifespan of the Toto tribal people is 35 years.
If you want to take a test on the old tribal culture, then Totopara is one of the best tourist spots for you. Toto people belong in Indo-Bhutanese tribal community. Till now their lifestyle remain nearly traditional.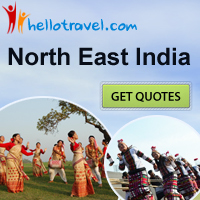 Totopara situated at the northern edges of the Jaldapara Wildlife Sanctuary. It is a village on the Indo-Bhutan border-line and just 22 KM road distance from Madarihat town. Madarihat is on the entrance of the famous Jaldapara Wildlife Sanctuary. From Madarihat to Totopara is well accessible with some private Bus and any other vehicle.
By Road : Jaldapara is well connected by road with Darjeeling, Siliguri and other towns of North Bengal. North Bengal State Transport Corporation Buses, Bhutan Govt. Mini Buses and Private Buses are available from Siliguri to Alipurduar via Madarihat. Journey time from Siliguri is about 4 hours.
Route :-
a) Darjeeling -> Siliguri -> Jalpaiguri (via New Teesta Bridge) -> Maynaguri -> Dhupguri -> Gairkata -> Birpara -> Madarihat (204 km)
b) Darjeeling -> Siliguri -> Sevoke -> Bagrakote -> Mal -> Chalsa< -> Nagrakata -> Binnaguri -> Birpara -> Madarihat (214 km).
By Rail : Nearest railway station is Falakata (19 Kilometers from the sanctuary) and Madarihat (7 kilometers away). But all train do not arrived here. New Jalpaiguri and Siliguri Railway Station are the main railway station in this area. You can change train from New Jalpaiguri or can follow the road journey from New Jalpaiguri to the park or Siliguri to the park.
By Air : Nearest airport is Bagdogra. It is a domestic airport under Indian Army. All major air services are available from all over India. Distance between Bagdogra and Siliguri is 13 km. You can find out various vehicles to come in Siliguri, and then follow the above road route.
Baradabri Youth Hostel
P.O. - Hasimara, District - Jalpaiguri
Number of rooms :
14 bedded dormitory @
30/-
Service Charge
30/- per head
Jaldapara Tourist Lodge
P.O. - Madarihat, District - Jalpaiguri
Phone : (03563) 262230
Number of rooms :
22 double bedded rooms @
1300/-*
13 bedded dormitory @
350/-*
6 double bedded cottage @
800/-*
Hollong Tourist Lodge
P.O. - Madarihat, District - Jalpaiguri
Phone : (03563) 262228
Number of rooms :
7 double-bedded rooms @
1000/- per day + compulsory food, @
185/- per head (dinner, breakfast & bed tea)
Lunch @
85/- per head
Baradabri Forest Lodge
P.O.- Hasimara, District - Jalpaiguri
Phone : (03563) 262228
Number of rooms :
3 double bedded rooms @
100/-
Service Charge
60/- per head
* including all meals, per day
To check the room availability and online booking in the resorts of West Bengal Forest Development Corporation click here.
Reservation Authorities :
Tourism Centre, Govt. of West Bengal
3/2, B.B.D. Bag (East)
Kolkata - 700001
Phone : (033) 22485917, 22488271
Tourism Centre, Govt. of WB
M-4 Building, Pradhan Nagar
Hill Cart Road, Siliguri - 734403
Phone : (0353) 2511979 / 4, 2432561
Fax : (0353) 2511979, 2432561
WB Forest Development Corporation
6-A Raja Subodh Mullick Square
Arya Mansion, 7th Floor, Kol–700013
Phone: 033-22370060/22370061