Kerala is the twenty-first largest state of India with an area of 38,862 Sq Km. It is placed on the Malabar Coast of south-western part of India. According to the census of India 2011, approximately 62,481,681 people reside. Kerala is separated by the neighboring state of Karnataka to the north and northeast, Tamil Nadu to the south and southeast and the entire western side is bordered by the Arabian Sea.
Kerala was established in 1956 on 1st November by the state reorganization committee of India and its capital city is Thiruvananthapuram. The other major cities of the state are Kochi and Kozhikode. The state is build up with 14 distinct districts namely Kasaragod, Kannur, Wayanad, Kozhikkod, Malappuram, Palakkad, Thrissur, Eranakulam, Idukki, Thiruvananthapuram, Kollam, Alappuzha, Pathanamthitta and Kottayam. Read more...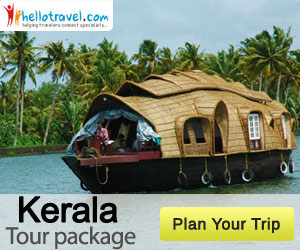 Kerala is placed closer to the equatorial region of the World and so, the climate of the state is very comfortable due to its equable climate type throughout the year. But some high elevation regions of the state (especially in hill stations) receive some low temperature in winter season and these high elevation regions produces heavy rain throughout the state.
Weather in summer: Normally the summer season of Kerala is continued from March to Mid-June and the temperature varies from 36°C to 30°C. During this season average 135 mm rainfalls receive this state.
Weather in winter: Normally the winter season of Kerala is continued from November to Mid of February and the temperatures vary from 28°° to 19°C. But some regions of higher elevation of hill stations the temperature often falls below 10°C.
Weather in monsoon: Normally the monsoon season of Kerala is two types - South West Monsoon and North East Monsoon.
South West Monsoon in Kerala: Southwest monsoon is continued from end of May or early June to September. During this season the state receive heavy rainfalls approximately 2250 mm to 2500 mm.
North East Monsoon in Kerala: This season is also known as the Retreating of southwest Monsoon winds. Usually it coincides with the month of October and November and sometimes lasts till December. During this season the state receive averaging rainfalls of 450 mm to 500 mm.
Language and Religions In Kerala:People of Kerala usually use Malayalam dialect as their main spoken and official language, more than 96.56% of inhabitants speak this language and rest are use Tamil (2.11%), Tulu (0.38%), Kannada (0.26%), Konkani (0.22%), Telugu (0.16%) and rest are Hindi, Marathi, Gujrati etc. The people of Kerala mainly follow Hindu religion (56.2% of total population), Islam (24.7%), Christianity (19%) and rest 1.1% are local tribal or Adivasi.
Festivals in Kerala: Onam (August or September) is most popular festival in Kerala. Snake Boat race festival is also very popular in the state. Some other major festivals of Kerala are Thiruvathira Festival (in winter), Makaravillakku at Sabarimala, Bakrid, Christmas, Vishu, Thrissur Pooram, Ochirakali (during June), Ganesh Chaturthi, Kerala Foundation Day, Deepavali and Idul-Fitr.