Mongpong, situated just 45 minutes driving distance from Siliguri in Darjeeling District, is the first tourist spot in the Dooars tourism circuit. So you can call it as the gateway of Dooars. The location of Mongpong is very romantic and unique – it is located on the bank of river Teesta, where it comes down to the plain after a long hill journey (nearly 200 km) and breaks into several channels and flows through the Mahananda Wildlife sanctuary, which makes an ideal breeding place for the migratory birds.
So it gives a panoramic view of the wide Teesta basin and the Mahananda Wildlife Sanctuary. Sevok bazar is located on the other bank of the river Teesta. To reach Mongpong from Siliguri, you should cross the river Teesta over the Bag Pool (Coronation Bridge). It is a very beautiful example of modern Indian architecture. A very good view of Great Himalaya is also available from here along with the river view from the forestry environments.
Quick Facts
Altitude
61 m above sea level
Location
Siliguri subdivision of Darjeeling District, West Bengal
Nearest City & Town
Siliguri, Jalpaiguri and Mongpong
Distance
20km from Siliguri and 28km from Mongpong
Best Season
October to April (Basically in Winter)
Mongpong is a very good picnic spot for local people. It is a small village having a forest check post with some shops and huts, but it is a destination of endless natural beauty. Mongpong is situated in the fringe of Mahananda Wildlife Sanctuary, which is famous for the various type of Indian and migrant birds – Brahmini duck, Pin-tailed duck, Mallard and Bar-headed goose are some famous migrant birds that come here from Central Asia and Ladakh during winter session. Mongpong is also famous for its location.
A very good view of Great Himalaya is available from here along with the river view which divides into several streams in the forestry environments. A forest bungalow is also available here for tourists to stay overnight. But one thing you should remember all time – Mongpong is the Kingdom of little Indian monkey. So be careful about them – they are very smart to do their job!
Mongpong is geographically located and serves as the gateway of Dooars. There are many scenic and pleasing tourist spots in the Dooars which are really popular among tourists. Chalsa, Murti, Bindu, Birpara, Jhalong, Garumara National Park, Chapramari Wildlife Sanctuary, Madarihat, Holong are very common among them.
Kalimpong, Kurseong, Lava, Loleygaon are also very famous tourist spots and you can visit from here. All of these places are in the hilly area in the Darjeeling district and near by Mongpong.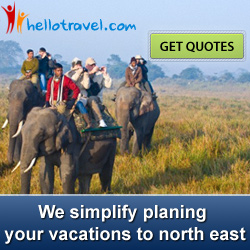 By Road : National Highway No.31 between Siliguri and Guwahati passes over Mongpong via Sevoke. It is just 30-kilometer road distance. North Bengal State Transport Corporation Buses, Bhutan Govt. Buses, Mini Buses, Private Buses and Taxi are available from Siliguri to Mongpong.
The buses which go to Dooars (that is the buses going to Malbazar, Chalsa, Alipurduar), go over Mongpong. But it is better to hire a private car from New Jalpaiguri or Siliguri. Journey time from Siliguri to Mongpong is about 45 minutes.
By Rail : Nearest railway station to Mongpong is New Jalpaiguri. New Jalpaiguri and Siliguri Railway Station are the main railway station in this area. After you arrive at New Jalpaiguri or Siliguri, you should follow the road journey to reach Mongpong.
By Air : Nearest airport is Bagdogra. It is a domestic airport under Indian Army. All major air services are available from all over India. Distance between Bagdogra and Siliguri is 13 km. You can find out various vehicles to come in Siliguri, and then follow the above road route.
Accommodation in Mongpong
If you want to stay at Mongpong, a Nature Wilderness Resort is available with a limited accommodation, managed by the WBFDC. Mongpong forest bungalow or Mongpong forest guest house is situated in the forests of sal and tick on the bank of the river Teesta. The Resort offers a very pleasant environment and stay. It has 4 cottages two of which are air-conditioned. The names of the cottages are Kalige, Cuckoo, Monal and Tragopan , named after birds.
After get up at early morning, you can take a walk towards the bank of river Teesta and listen the natural music of various known and unknown birds, which should gives you an amazing feelings. To check the room availability and online booking in the resorts of West Bengal Forest Development Corporation click here or contact with the address bellow.
Reservation Authorities :
Divisional Manager, Kalimpong
(General & Special Division)
W.B.F.D.C. Ltd., Kalimpong
Phone: 03552-255783 / 255780
Tourism Centre, Govt. of WB
M-4 Building, Pradhan Nagar
Hill Cart Road, Siliguri - 734403
Phone : (0353) 2511979 / 4, 2432561
Fax : (0353) 2511979, 2432561
WB Forest Development Corporation
6-A Raja Subodh Mullick Square
Arya Mansion, 7th Floor, Kol–700013
Phone: 033-22370060/22370061