Rishop (also spelt as Rishyap and Risop), is a small Lepcha village on the hill top in Dooars, situated on 2,951 m (8,500 ft) above sea level. It is about 32 km from Kalimpong and just 9 Km road distance from Lava, but if you are adventures enthusiastic then you have a 3.5 km pleasure trekking to reach at Rishyap. It is a nice and charming village away from the city crowds, where the sun, clouds, mountains and forests create a magical atmosphere throughout the year. At night, the sky seems to come closer, where twinkling stars on the sky above, kissed the twinkling lights of Gangtok and Pedong bellow in a far distance. Nathu La pass and Jalep La pass are also partially visible in a distance horizon from Rishop. Altogether Rishop gives a magical view to all of its visitors.
Rishop is a newly developed tourist destination within the Neora Valley National Park, which is surrounded by pine or dhupi, birch, fir, colourful rhododendrons and orchid's forests. Any place from Rishop gives you a magnificent view of the surrounding mountaineer range, but nearby "Tiffin Dara" is famous for its excellent view of Mount Kanchenjunga and other mountains of the Eastern Himalaya. In a clear day, you may get a 300° view of mountaineer peaks in a row, from left to right you can see - Mt. Kharg, Mt. Kokthang, Mt. Rathung, Mt. Kabru, Mt. Talung, Mt. Pandim, Mt. Kanchenjunga, Mt. Simvo, Mt. Narsingh and Mt. Siniolchu. All roads in Rishop / Risop are not accessible with motor vehicles, so it is better to visit with walk.
Attractions in Rishyap / Rishop
Quick Facts
Altitude
2,591 m
Location
Kalimpong District of West Bengal
Nearest Cities
Kalimpong, Darjeeling, Siliguri, Jalpaiguri and Gangtok
Distance
106 km (via Kalimpong) or 116 km (via Gorubathan) from Siliguri and 101 km from New Jalpaiguri Railway Station
Best Season
October to April (avoid Monsoon)
Currency
Indian Rupee()
Time Zone
UTC+5:30
Rishop is popular for its scenic beauty to the visitors, as well as enjoyable to spend time in walking around the forests along with the village path. Rishop is famous for its 300° snow-capped mountain views, including Mount Kanchenjunga and other nearby peaks. Moonlight Kanchenjunga is just extraordinary to the visitors. In a clear day, you may get a most memorable visual show of the Himalaya in your life! You may also have a trek at Rishyap / Rishop. You can enjoy through trekking route, which is a deep silent forest of Pine, Birch, Fir & Orchids. Rishop is also known as the paradise for birds' watcher. Tiffin Dara is the second highest point of West Bengal with an altitude around 2,360 meters, a 1.5 km uphill trek from Rishyap. It is a 360-degree viewpoint, where from you can get a view of the mount Kanchenjunga and other mountain peaks of the East-Himalaya. Sometimes Mt. Everest is also viewable from Tiffindara.
Nearby Lava is another beautiful & peaceful tourist spot, situated on the way to Rishyap / Rishop from Siliguri (or New Jalpaiguri). Altitude of Lava is 2,138 meter from sea level. There have some interesting places for visit at Lava likes, Monastery, forest museum, lake, glass house. It is just 9 km road distance and 3.5 kilometre trekking distance from Rishyap / Rishop. Lolegaon, another beautiful tourist spot is located just 34 kilometres away from Rishop. Kalimpong, situated just 35 kilometres away from Rishyap / Rishop.
A complete tour story is available on the page Rishop-Lava-Lolegaon-Kolakham.
Rishyap is situated in the foothill of the Himalayas. So, it has experience a charming summer, which is lasting between March to May and the temperature of Rishop may varies between 8°C to maximum of 22°C. It is a great time to visit at Rishop, while the temperature is mild, blossom the rhododendrons & orchids forests, sky remain clear and altogether it gives a magnificent panoramic views of the surrounding nature. May is the hottest month in Rishop, when the temperature may rises beyond 20°C. Monsoon starts from June to middle of October. The average annual rainfall at Rishyap is 635 cm and landslides are common incident, so it is better to avoid rainy season to visit here.
In the autumn between October and November, Rishyap has experience another great weather, when no flower blooms but the views of snow-cover peak are awesome. In the winter lasting between November to February, temperature at Rishop varies between 0°C to 6°C, some time temperature may come dropped to below 0°C. And the weather at Rishyap remains very cold and snowfall is a common scenario at that time. Average winter temperature at Rishop is about 3°C.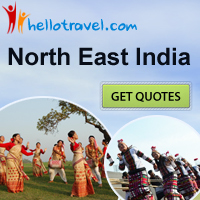 By Road : National Highway No.31 between Siliguri and Guwahati passes over Chalsa. From Chalsa to Rishyap / Rishop via Lava have district road. Lava is adjoin town to the Neora Valley National Park. North Bengal State Transport Corporation Buses, Bhutan Govt. Buses, Mini Buses, Private Buses and Taxi are available from Siliguri to Lava via Kalimpong or via Gorubathan. Journey time from Siliguri or NJP to Rishyap / Rishop is about 3 hours.
By Rail : Nearest railway station to Rishyap / Rishop is New Jalpaiguri. New Jalpaiguri and Siliguri Railway Station are main railway station in this area. After you arrive at New Jalpaiguri or Siliguri, you should follow the road journey to reach at Rishyap / Rishop.
By Air : Nearest airport is Bagdogra. It is a domestic airport under Indian Army. All major air services are available from all over India. Distance between Bagdogra and Siliguri is 13 km. You can find out various vehicles to come in Siliguri, and then follow the above road route.
You can find out forest departments cottages at Lava and Rishyap / Rishop. Food and lodging are available here. There have another tourist cottages at Chhadapheri named Red Panda Camp situated just near the entrance to Neora Valley National Park. Some private hotel and lodge are also available at Lava and Rishyap / Rishop. In season period, you can run out of rooms if you just land up there without booking - as number of lodges are limited.
New Mountain Resort
Resort
*
400m from centre
Neora Valley Retreat
3 Star
Hotel *
300m from centre
Friend's Eco Resort
Resort
*
400m from centre
Green View Homestay
Homestay
*
400m from centre
For Govt. Guest House Reservation:
Divisional Manager, Kalimpong
(General & Special Division)
W.B.F.D.C. Ltd., Kalimpong
Phone : +91-3552-255-780 / 83
Tourism Centre, Govt. of WB
M-4 Building, Pradhan Nagar
Hill Cart Road, Siliguri - 734403
Phone : +91-353-251-1974 / 79
Fax : +91-353-243-2561
WB Forest Development Corporation
6-A Raja Subodh Mullick Square
Arya Mansion, 7th Floor, Kol–700013
Phone: +91-33-2237-0060 / 61