Kochi or Cochin City, Kerala, India
Kochi or Cochin is located on the west coast of the Indian peninsula by Arabian Sea about 218 km away from Trivandrum (capital city) in the district of Ernakulam, state of Kerala, India. Kochi also known as Port City of or the Queen of the Arabian Sea is the home of Southern Naval Command of Indian Navy. It covers an area of 95 sq km with a coastline of about 48 km. Kochi is bordered with the Western Ghats by the east and the Arabian Sea by the west. Cochin is the best place for a tourist to begin his journey to explore the infinite diversity and beauty of Kerala. The city is rated as one of the top three tourist destinations by the World Travel & Tourism Council.
Pedro Álvares Cabral, a Portuguese sailor reached at Kochi Fort in 1500. Gradually Portuguese sailors took the control of Kochi fort and its surrounding regions and they able to control of this province till 1663. During the year of 1663 the Portuguese were beaten by Dutch attack and they captured this city. Latter in 1773 the Dutch were beaten by the King of Mysore, Hyder Ali who and his successors able to keep the control of the city till 1814. After that it was gone under the rule of British Rulers up to Indian independence. Later on in 1956 Kochi became a part of the state Kerala when the state was established.
According to the census 2011 about 2117992 people reside in Kochi. Among them 47.2% follows Hinduism. Rest inhabitants mainly follow Christianity or Islam but some Jain, Sikh and Buddhist also live here. The city is an abode of about 35.1% Christians which makes it one of the largest Christians populated cities in India. Malayalam is main spoken dialect in Cochin and it also serves as the official language along with English. Some other languages like Hindi, Kannada, Tamil and Telugu are also used. Kochi literacy percent (97.4%) is highest respect to other Indian cities. The people of Cochin mainly depend on the profession of trading related to tourism and fishing. Now, some heavy industries and software related company offers lots of vacancy.
There have no winter in Cochin due to the proximity to the world equator. The influence of Arabian Sea and Western Ghats Ranges provide the city a moderate equatorial climate. Temperatures variations remain unchanged throughout the year in Kochi. It mostly stay between 22 °C to 32 °C temperature range but some time it may reach up to 37 °C (in May) and may fall around 16 °C (in January). Monsoon season comes in two times in Kochi. The first monsoon called as southwest monsoon continue from June to September. The returning monsoon or northeast monsoon continues from October to December. Average annual rainfall of Kochi is 323 cm.
How to reach at Kochi City?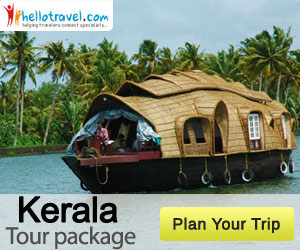 Travel by Roadways
Kochi roadway network is very well connected with several state and national highways. The NH-544 connects Kochi to Salem, Coimbatore, Palakkad and Thrissur. NH-66 connects Kochi with Panvel, Mumbai, Edappally and Vytilla. NH-85 connects Kochi to Tamil Nadu. Several state highways like SH-15 connect the city to Kottayam. SH-41 provides a corridor to the eastern parts of the district. Being a city of well road communication it receives the regular direct buses from other adjoining major cities of Cochin.
Travel by Railways
There have three major railways stations in Kochi where you have to reach to visit the city. These three stations are Harbour Terminus of Willingdon Island, Ernakulam North town (7 km from city center) and Ernakulam South Junction (5 km from Kochi city center). Ernakulam Railway Junction is well connected to all major cities of India. Cochin Railway network is under the Thiruvananthapuram Railway division of Southern Railway Zone of Indian Railways.
Travel by Airways
If you plan to visit Kochi then the Cochin International Airport of Nedumbassery about 24 km away of city center will be the suitable destination to you. It provides lots of international flights include Malaysia, Sri Lanka, Singapore, etc and most of domestic regular flights from and to the airport. Kochi airport is ranked fourth in terms of receiving international passengers in India.
Travel by Waterways
Seaports of Cochin are safest and best respect to other Indian seaports. Several passenger ships operate from the city to Colombo and Lakshadweep. These services are provided by Kerala Shipping and Inland Navigation Corporation and the several private firms from various boat jetties in Kochi. During the monsoons season, the ship services remain closed.
Places to visit in Cochin or Kochi City
Fort Kochi beach is located about 19 km away from Cochin International Airport and 11 km from Ernakulam. It is a perfect place for panicking by the locals tourists. Chinese fishing nets or Cheenavala and sailing ships are major attraction at the beach and you can also make a long walk through the seashore at evening. Some other attractions around the beach are Indo Portuguese museum, Southern Naval Command Maritime Museum, Cochin Thirumala Devasthan Temple, etc.
Veegaland Amusement Park is one of the finest parks of India located at Pallikkara Hill top about 13 km away from Cochin, Kerala. The park was constructed on an area of 24 acres in the year of 2000 by the state government of Kerala. The park includes a range of attractions including mini castles, a wave pool, a dazzling dancing musical fountain, artfully landscaped promenades, flower gardens, three restaurants, water theme park, ferries wheel and 26 hair-raising water slides.
Marine Drive is a tree km long coastal pathway starched from Kochi High Court Junction to Rajendra Maidan. This pathway was constructed to face the backwaters but now it becomes a popular hangout for the locals and foreigners especially in evening. Several shopping malls are placed by the side of this pathway which makes it a vital centre of shopping in Kochi. The gentle breeze of the Vembanad Lake blows over Marine drive which is most enjoyable for visitors.
St. Francis Church is the first European Church that was built in India. The great Portuguese sailor, Vasco Da Gama died in the year of 1524 on Christmas Eve and he was buried in this Church. After 1663 the Church was captured by Dutch and they renovated it in 1779. In 1795 British captured Cochin over the Dutch ruler and the erected a Clock in the year 1923 on the church.
Vasco house is believed to the residential palace of the Portuguese navigator Vasco Da Gamma. It is located on Rose Street in the city of Kochi, Kerala. Vasco Da Gama reached to this city in 1502, although the city was not his permanent address but he died here in 1524 at his third visiting in Cochin. This house was built at the beginning of 16th European glass paned windows and balcony cum verandahs characteristic of the times.
Santa Cruz Cathedral Basilica is one of the oldest churches in India located in Fort Kochi. It was built by the Portuguese in 1505 and elevated to a cathedral in 1558 by Pope Paul IV. Later on 1795 the British destroyed the structure of cathedral. The current looks of the church was built in 1905 and it was proclaimed as a Basilica by the Pope John Paul II in 1984. This superb church is a must see tourist spot in Cochin.
Mattancherry Palace was originally built by the Portuguese. Later on 1663, it was extended and renovated by Dutch and thereafter it was known as Dutch Palace. This palace is a quadrangular structure built in typical Nalukettu Kerala style with lots of fine mural paintings which depicting the Hindu epics Mahabharata and Ramayana. There have two temples close to the Palace one is dedicated to Lord Krishna and another to Lord Shiva.
Bolgatty Island is located just 2 km away from Ernakulam Railway Station close to the Kochi harbor mouth. You can easily get that island with a short boat ride from Kochi harbor. This island is famous for Bolgatty Palace which was built by a Dutch trader in 1744. Now it has been converted in to a hotel of the Kerala Tourism Development Corporation (State Government). There has a tiny golf course and the things which most attracted are the scenic views of the port and the Sea.
Hill Palace was built in the 1865 by the Raja of Kochi. Now, it has been converted into an archaeological museum. Hill Palace is located 16 km east of Cochin in Tripunithura. The palace is about 12 km from Ernakulam mainland and approachable by road and rail. The museum displays Crown and ornaments of Cochin royal family, paintings, sculptures in stone and marble, weapons, inscriptions, coins etc.
Cherai Beach is located about 32 km away from Kochi City center in the Vypeen Island. Cochin International Airport and Ernakulam Railway Station located about 18 km and 36 km away from Cherai Beach respectively. You can easily get that beach with a boat ride or Bus travel from Kochi. You have lots of things to do at the beach like swimming, Water-scooter riding, Speedboat riding, picnicking, traveling at Park, etc.
Some other places of interests in Cochin are Jawaharlal Nehru Stadium of Kaloor, Jewish Synagogue and Jew Town of Mattancherry Palliport Fort located in Pallipuram on Vypeen Island, Bolgatty Palace, Mangalavanam Bird Sanctuary, Museum of Kerala, Parikshith Thampuran Museum, etc.
Ballard Bungalow
River Road, Cochin
Phone: 0484-2215854
Hotel Delight
Rids dale Road, Kochi
Phone: 0484-2217658
Chiramal Residency
Lilly Street, Cochin
Phone: 0484-2217310
Bernard Bungalow
Parade Road, Kochi
Phone: 0484-2216162
Walton's Home stay
Princess Street, Kochi
Phone: 0484-2215309
Napier House
Napier Lane, Cochin
Phone: 0484-2215715
Secret Garden
Near Patalam Market
Phone: 0484-2216658
The Old Courtyard
Princess Street, Cochin
Phone: 0484-2216302
Fort Heritage
Napier Street, Cochin
Phone: 0484-2215333
Old Harbor Hotel
Tower Road, Cochin
Phone: 0484-2218006
Brunnton Boatyard
River Road, Kochi
Phone: 0484-2215461
Hotel Arches
Rose Street, Kochi
Phone: 0484-2215050
General info of Kochi City
| | |
| --- | --- |
| Country | India |
| State | Kerala |
| Area | 95 sq km |
| Population | 2117992 (census 2011) |
| STD Code | 0484 |
| ISD Code | 0091484 |
| Landmark | At the Southern tip of Indian peninsula. |
| Languages | Malayalam, Hindi, English, etc. |
| Climate | Winter average 22°C, Summer average 33°C |
| Best season to visit | December to April |
| Major Attractions | Several beaches and some historical palaces. |
| Targeted Railway Station | Ernakulam South Junction |
| Airport | Cochin International Airport |