Alappuzha or Alleppey City Backwaters, Kerala
Alappuzha or Alleppey is a lovely tourist destination in Kerala located about 60 away from Cochin and about 153 km away from Kerala state capital Trivandrum. The city also serves as the administrative headquarters of Alappuzha District. This town is considered as one of the lovely tourist destinations in Kerala with its several exquisite canals, backwaters, beaches, and lagoons. These natural beauties make the city so attractive that the city some time refers to as the Venice of the East. Being a city very closer to Arabian Sea it has lots of Backwaters which attracts lots of tourists across the world. You will be facilitated with houseboats if ever you come here to discover the beauties of backwaters.
Alappuzha City was under the rule of Chera Dynasty till 12th centuries. There after Zaromins captured this region and latter it went the control of Portuguese up to 17th century. Then the Dutch navigators captured it and finally in 19th century it has gone under the rule of British. Alleppey is traditionally is a Hindu predominant city from its ancient age but some Christian and Muslims also reside here. Majority of population in Alappuzha used Malayalam as main dialect and Tamil and Konkani dialects also used by some natives. English is used for official use mainly but most of the city people more or less understand it.
Alappuzha is very closer to the Arabian sea of Indian southern coast. Beaing a coastal city it receive a heavy rainfalls during its monsoon season about 280 cm annually. There have two monsoon season in Alleppey; first one continue from June to September which is called as south west monsoon and another is the North east monsoon which continue during October and November. Usually summer season of the city remains between March to May when the average temperature ranges varies between 28°C to 35°C and the winter season is very light here but perfect for tourism during December to mid March.
How to reach at Alappuzha City?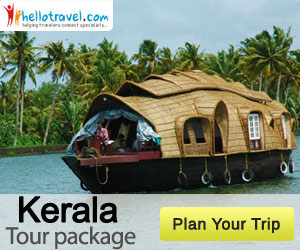 Travel by Roadways
Alappuzha city is connected to other neighboring cities of Kerala like Ernakulam, Thrissur, Kollam, and Trivandrum through the NH-47. You will get regular bus services from Bangalore (2:00 pm, take16 hours), Coimbatore (6:35 am take 7 hours), Kochi (several frequent buses throughout the day, Journey time-½ hours), Thiruvananthapuram (several frequent buses throughout the day, need - 3½ hours to reach), Kottayam, Thrissur, Palghat and Kozhikode to this city. You can make also a call at 0477-2252501 to know the farther details of Alappuzha Bus schedules.
Travel by Airways
There have no airport at the city of Alappuzha, Cochin International Airport (Enquiry Number: 0484-2610115) is the nearest to this city located about 83 km away. Another important closer airport to this city is the Trivandrum International Airport (Enquiry Number: 0471-2501424) about 153 km of Alappuzha City. These two airports receive all types of flights (domestic or International) across the world. After reaching to these airports you can easily get the city by railways, roadways or waterways.
Travel by Railways
Alappuzha Railway Station is located about 5 km away from city hub. It is the main station connected to other Indian cities like Trivandrum, Cochin, Kolkata Chennai, Bokaro and Mumbai. Being a popular tourist destination several special trains are operated through over the city from many cities like Kannur, Chennai, Dhanbad and Tatanagar, Banglore, Manglore, Calicut, and Amritsar, etc. you can make a call at 0477-2253965 for know details of train availability of Alappuzha.
Travel by Waterways
You can also reach at Alappuzha by through its backwaters with a ferry from its adjoining cities like Kollam, Changanassery, Kottayam, Kochi, Kumarakom, Kovalam and Chengannur. The ferry station enquiry number is 0477-2252015. Ferry Timings - Kottayam to Alleppey – 7:30 am, 10 am, 11:30 am, 2.30 pm and 5:30 pm, Changanassery to Alleppey 10 am, 1.45 pm and 5.30 pm and Nedumudy to Alleppey frequently service throughout the day.
Tourist Attractions in and around Alappuzha
Alleppey city is mainly famous as a popular tourist destination for its beautiful backwaters. Beside of this some other attractions of the city are Alappuzha Beach, Ambalappuzha Sri Krishna Temple, Edathua Church, Sea View Park, Kuttanad Pathiramanal Excursions, Arthunkal, Chavara Bhavan, Champakulam Krishnapuram Palace, Kuttanad region, etc. This city can be a great place to visit during its festival season of annual boat race, Mullackal festival of Mullackal Devi Temple, Kodiyettu during Navaratri and the Chirappu festival of December.
Krishnapuram Palace was constructed by the king Marthanda Varma during 18th century. It is located about 46 km away from Alappuzha city hub. Now it converted into a museum by the Kerala state government. The palace has been declared as a national heritage site. The main attraction of the museum is Gajendra Moksham (a large single band of mural painting) and some other attractions include gardens and the statue of the Buddha.
Alleppey Beach is a must see place in the city. It has long stretch of shores with lovely colored sandy beach include thickly planted palm groves. Vijaya Park of the beach is the most attractive place to spend some good time. This beach offers you several activities to do like surfing, playing volley ball, Para sailing, swimming and picnicking. The snake boat races of August and September also attracts thousand of tourists during this season.
Ambalappuzha temple was constructed during 17 AD. It is a Krishna temple located about 12 km away from Alappuzha city hub on the NH-47. A popular festival which persists for 10 days is organized every year in the temple during the month of Meenam (March or April). It attracts lots of tourist to this city. Pantrandu Kalabha Maholsav, a 12 day festival of Makeeramis Month, is another important celebration of the temple.
Arthunkal is a small town located about 21 km away from Alappuzha and 46 km from Kochi. It is a major Christian pilgrim centre in Alappuzha district of Kerala, India. St Andrew's Basilica Church is main venue to visit at the city. It takes a festive looks during 10th to 27th January. There have also a small beach close to this town.
Edatgya Church was constructed in 1810 which is dedicated to St. George. It is located about 24 km away from Alappuzha City. The church attracts lots of devotees during the annual festival of May. During the festival from 5th to 7th May a image of the saint, Edathua Punniyavalan, decked in gold is carried out in procession.
Chavara Bhavan is located about 7 km away from Alappuzha. It was constructed by the great saint Kurikose Elias Chavara about 252 years ago. It is a church where thousands of devotees gather for prayers to perform Novena Prayer at every Saturday.
Hotels in the Alappuzha City
Hotel Prince
A.S Road, Alappuzha-688007
Phone: 0477-2243752
Hotel Royal Park
Ÿ.M.C.A Road, Alappuzha-688007
Phone: 0477-2264828
Citrus Backwater Retreat
Parâvur Village, Alleppey-600014
Phone: 0477-2288611
Green palace Kerala
Chempum Puram, Alappuzha-688505
Phone: 0477-2617390
Kayaloram Heritage Lake Resort
Avalukunu, Alappuzha-688006
Phone: 0477-2232040
Punamada Backwater Resort
Púnnamada, Alleppey-688012
Phone: 0477-2233690
Pagoda Resorts
Z¡lla Court Ward, Alappuzha-688001
Phone: 0477-2254212
Salem Home Stay
Thathampally, Alleppey-688013
Phone: 0477-2237745
Tharavadu Heritage Resort
Sea View Ward, Alappuzha-688012
Phone: 0477-2244599
Pozhioram Beach Resort
Thumpóly, Alappuzha-688008
Phone: 0477-3024281
Picasso Castle
Thondankulanagara, Alleppey
Phone: 0477-6452525
Abád Turtle Beach
Varankavala, Alappuzha-688567
Phone: 0478-2186966
General info of Alappuzha City
| | |
| --- | --- |
| Country | India |
| State | Kerala |
| District | Alappuzha District |
| STD Code | 0477 |
| ISD Code | 0091477 |
| Languages | Malayalam, Tamil, English, etc. |
| Climate | 22°C to 35°C |
| Best season to visit | Any time, best in Winter and festival time of Nehru boat race |
| Targeted Railway Station | Alappuzha Railway Station |
| Airport | Cochin International Airport |