Thiruvananthapuram or Trivandrum
Thiruvananthapuram or Trivandrum is the most important and busiest city in Kerala located by the southern region of Indian mainland on the west coast of Aribian Sea. It is one of the best metropolitan cities in India and also the administrative headquarters of the Thiruvananthapuram District and Capital city of the state Kerala. Trivandrum covers an area of about 215 sq km on the bank of the river Karammana and Kili. It is city protected by the Arabian Sea to the west and the eastern regions bordered with the mountain ranges of Western Ghats.
Thiruvananthapuram is a Malayalam word which literally means the city of Lord Ananta or Vishnu (Thiru-Ananta-Puram). The temple of Lord Ananata or Vishnu (Sri Padmanabhaswamy temple) is the heart of the City. Initial development of Thiruvanantha Puram had begun adjacent to the temple region and still today it plays a vital role to develop the social culture and social of the city. Marthanda Varma was first successful king who rose in power in 1729 of Travancore Province. And after some year in 1745 Thiruvananthapuram became the capital city of Travancore Province.
During the 19th century the city reached its peak in every field of social development by the power of the kings Swaathi Thirunal and Ayiliam Thirunal. At the beginning of 20th century in 1920, the city was subjected as a municipal area by the democratically elected legislative council. And later in 1940 it was converted into Corporation area. After Indian independence, Travancore region became a part of Indian democracy along with its capital Thiruvananthapuram in 1949. Finally the city became the capital city of Kerala on 1st November 1956 when the state was established.
As per census 2011 India, approximately 752496 people reside in Trivandrum City, among them more over 65.2% of population follows Hinduism rest are Christians about 17.9%, Muslims about 14.9% and the remaining 2% of the population follows other religions. The city people accept Malayalam as their official language along with English. Tamil, Hindi, Tulu and Konkani dialects are also used somewhere of Thiruvananthapuram. Being the capital city of the state Kerala, Trivandrum provides a better lifestyle to commoners. More over 50% of population are employed in government sectors.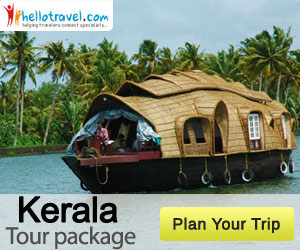 Over all temperature variations during summer and winter remain pleasant and comfortable in Thiruvananthapuram for tourists. Winter season continues from December to February when average temperature is about 21°C and summer season continues from March to May when average temperature is about 35°C. Except monsoon season the city climate remain pleasant to visit but the month from End-October to February is the best time to visit Trivandrum.
The monsoon season of city remains for long terms and it split in two different types, first monsoon (southwest monsoon influence by Arabian Sea) season start from June and last till end of August and the second monsoon (Northeast monsoon influence by Bay of Bengal) continue from September to December. During these two seasons the city receive heavy rainfalls about 180 cm and city humidity is high and rises to about 91% with around 141 rainy days every year.
Places to Visit in Thiruvananthapuram
Sri Padmanabhaswamy temple is one of the richest temples in the world dedicated to lord Vishnu. The temple is a mixture of Kerala and Tamil architecture constructed by Viswakarma Sthapathis and it has many structures inside, like musical pillars, golden Mandap, 500 pillared corridors famous for its sculptures and large collection of paintings. The shrine is currently run by a trust headed by the royal family of Travancore.
East Fort is an old fort around Sree Padmanabhaswamy temple. East Fort got its name from the eastern entrance to the fort built by the Kings of Travancore. It is said that there were huge metal gates on this entrance to the Fort which was decorated with the symbol of a conch, which was the isignia of the Royal Family of Travancore.
Napier museum was designed by the architect Robert Chisholm and its name came after the former governor of Madras, Lord Napier. You will find here some rare collections of archaeological and historical artifacts including bronze idols, ceramics, carved wooden cart, Buddhist statues, Ivory carvings, Balinese shadow puppets, old coins, etc.
Priyadarshini Space is one of the largest and best planetariums in the world located in Thiruvananthapuram City, Kerala, India. It has several rare collections of astronomical science objects from ISRO, Sky Theatre, a large conference hall and a place to show regular space related programs. Kerala Science and Technology Museum is located just beside it.
Kovalam Beach is located about 16 km away from Trivandrum City. It is one of the world's most popular beaches. Kovalam has three beaches namely Lighthouse, Hawah Beach and Samudra Beach which is separated by rocky outcroppings with its 17.1 km coastline. November and December is the best time to visit here.
Zoological Park of Thiruvananthapuram is the first Indian zoo opened for people in 1843. this zoological garden is opened through out the week except Monday. It is located in the Kerala Museum compound. You will spend a great holyday inside it with variety of animals, plants and birds.
Kanaka Kunnu Palace also known as Golden Hill Palace by locals is a popular tourists spot in Thiruvananthapuram. This was a beautiful garden palace of Travancore Kings reserved the guests of the province. Now, it serves as a open air auditorium for regular concerts and evening dance programs.
Kuthiramalika Palace was established by Maharaja of Travancore province, Swathi Thirunal close to the Padmanabhaswamy temple. It palace is famous for its horse shaped windows, décor and for the Music Festival by the Royal family of Travancore.
Kowidar Palace was constructed by the king Sree Moolam Thirunal in 1915 at Kowidar in Trivandrum City. Now, it was the official residence of Travancore royal family. This super architectural building is consists of Kowdiar over 150 rooms include some restricted rooms.
Shanghumukham Beach is one of the best tourist attractions in the city of Trivandrum. It is located about 9 km away from city center just besude the Trivandrum International Airport. The sculpture of Matsyakanya (a mermaid Sculpture) by Kanai Kunjiraman is a must see object.
Veli Tourist Village is a very popular tourist and picnic spot in Thiruvanantha Puram located about 6 km away from city center and it becomes heavily crowded in weekends. You will be fascinated here with the boating, horse riding, feeding fishes, traveling in gardens, etc.
Padmanabhapuram Palace was the initial headquarters by the Maharajas of Travancore located in side a fort about 48 km away from Trivandrum. It is recorded as World's largest Wooden Palace by the Guinness Books of Records constructed in 1601 by Iravi Varma.
Some other tourist places of Trivandrum are Attingal Palace, Koyikkal Palace, ruvikkara Dam, Neyyar Dam, Peppara Wildlife Sanctuary, Sree Mahadeva Temple, Art College, Chacha Nehru, Keralan Museum, Sree Chithra Art Gallery.
How to reach at Thiruvananthapuram City?
Travel by Roadways
The NH-47 is connects the city to Kanyakumari, Coimbatore and Salem. Through the State Highway of Kerala, Main Central Road (MC Road or SH-1) maintain a well transportation between Thiruvananthapuram and its adjoining cities. KSRTC or Kerala State Road Transport Corporation operate lots of buses for better communication to Delhi, Kochi, Coimbatore, Kozhikode, etc. The central city bus terminal is located close to the Padmanabha Swamy temple. Thiruvananthapuram city maintain a road distances about 232 km to Kochi, 418 km to Kozhikode, 778 km to Chennai, 789 km to Bangalore and about 399 km to Coimbatore.
Travel by Railways
Thiruvananthapuram city railway service is in the Southern zone of Indian Railways. It is the city which connected to the world's second longest railway from Kanyakumari to Jammu. There have five major railway stations in Trivandrum among these the Thiruvananthapuram central station of Thampanoor is most important and it is well connected to almost all major cities in India such as New Delhi, Mumbai, Chennai, Bangalore and Hyderabad with regular train services.
Travel by Airways
Trivandrum Airport is one of the best Indian international airport which takes a vital role to communicate southern Indian states to India's neighboring countries like, Singapore, Maldives and Sri Lanka. It operates lots of international flights and regular domestic flights from other major parts of India. The airport is located little away from the city of Thiruvananthapuram near the Shankumugham Beach. Cochin International Airport is another destination port to you for reaching to this city.
Hotels in the Thiruvananthapuram City
Pankaj Hotel
MG Road, Thiruvanantha Puram
Phone: 0471-2464645
Horizon Hotel
Aristro Road, Thiruvananthapuram
Phone: 0471-2323222
Hotel Safa International
Thycaud, Thiruvananthapuram
Phone: 0471-2331963
Blue Nest Hotel
Mangalikullam Rd, Thampanoor
Phone: 0471-2324027
Hotel Oasis
Vaniya St, Vazhuthacoud, Trivandrum
Phone: 0471-2333223
Hotel Ruby Arena
Medical Collage Rd, Trivandrum
Phone: 0471-2557474
Hotel South Park
Palayam, Thiruvananthapuram, Kerala
Phone: 0471-2333333
Comfort Inn Grand
N G Road, Trivandrum, Kerala
Phone: 0471-2471286
Hotel Chaithram
Valyachala, Thiruvananthapuram
Phone: 0471-2330977
Keys Hotels
Opp. Fire Brigade, Trivandrum
Phone: 0471-3944100
Hotel Magic days
Vanrose Junction, Trivandrum, Kerala
Phone: 0471-4076000
Hotel Fort View
Kaithamukhu Petha Rd, Trivandrum
Phone: 0471-2452194
Muthud Plaza
Punnen Rd, Thiruvanantha Puram
Phone: 0471-2337733
Jaas Hotel Kerala
Aristo Jn, Thampanur, Trivandrum
Phone: 0471-2324881
Hotel Horizon
Valyachala, Thiruvananthapuram
Phone: 0471-2326888
Classic Avenue Hotel
Manjalikulam Rd, Trivandrum
Phone: 0471-2333555
Hotel Gith International
Near GPO, Pulimoodu Jn, Trivandrum
Phone: 0471-2471987
Highland Park Hotel
Manjalikulam Rd, Thampanoor
Phone: 0471-2333200
Silver Sand Hotel
Thampanur Fly Over, Near Railway Stn
Phone: 0471-2478230
Maurya Rajadhani Hotel
General Hospital Rd, Trivandrum
Phone: 0471-2469469
General Info of Thiruvananthapuram City
| | |
| --- | --- |
| Country | India |
| State | Kerala |
| STD Code | 0471 |
| ISD Code | 0091471 |
| Landmark | At the Southern tip of Indian mainland. |
| Languages | Malayalam, Hindi, English, etc. |
| Climate | Winter average 21°C, Summer average 32°C |
| Best season to visit | December to March |
| Major Attractions | Several beaches and historical palaces include the Sri Padmanabhaswamy temple. |
| Targeted Railway Station | Thiruvananthapuram central station |
| Airport | Trivandrum International Airport |
| Medical facilities | Phone: 0471-2444270 |
| Private Taxi | Mobile Number: 9847019282 |