Thrissur or Trichur City, Kerala
Thrissur is the fourth largest city in Kerala with an area of 101.5 km2, located about 298 km away from the state capital Trivandrum. The name Thrissur derived from the Malayalam word Thrissivaperur, which means "the City of the Lord Siva". The city was previously called as Trichur. It also the administrative headquarters of Thrissur District. Initially Thrissur was established around a temple called Vadakkumnathan, which is located in a big field named Thekkinkadu. The inhabitants of Thrissur practice a rich Cultural from the ancient age with its several traditional academies like, the Kerala Sangeetha Nadaka Academy, Kerala Lalita Kala Academy and the Kerala Sahitya Academy. According to the census report 2011, near about 315,596 people reside in Thrissur City. Most of the populations in Thrissur (about 95.6%) are literate.
Thrissur region was under the control of the Chera Rulers for long terms till 12th century. Later on it goes under the control of Zamorins (Royal Dynasty of Calicut) who were able to continue their control upon the city till the end of 15th century. After that Thrissur was captured by Portuguese and they spread their trade throughout the city. Portuguese was beaten by the combine power of Cochin Rulers and Dutch Navigators during mid 17th century. At least in 1710 Cochin rulers were succeeded to capture the Thrissur region. However, during 1750 to 1760 ad Hyder Ali, the Sultan of Mysore, attacked Thrissur and merged it into the Kingdom of Mysore. Their after in 1786 Ali's son led attacked Thrissur second time. At the beginning of 19th century this region was gone under the rule of British.
The weather seasons of Thrissur remains hot and humid almost of a year, it receives a short term mild winter. Usually the summer season of the city continue from March to June when temperature ranges vary between 23 °C and 34 °C. After that from mid June to September Thrissur receive heavy rain by the South-west monsoon. This monsoon is followed by the second monsoon season of the city named as the returning monsoon during October and November. Winter season of the city is not so cold but pleasant and comfortable for tourism during the month from December to February when temperature ranges usually rary between 17 °C to 28 °C. The average annual rainfall of Thrissur is 252 cm.
How to reach at Thrissur City?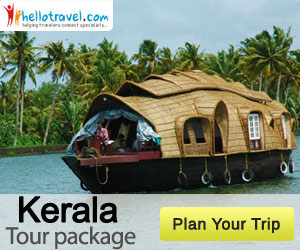 Travel by Roadways
Thrissur is well connected to different parts of Kerala with several state and national highways. Among them the most important is National Highway 47 which has connected the city to Kochi, Palakkad and Coimbatore. Beside of Kerala state government bus services (KSRTC), the city is largely dependent on private buses or cabs for inter city transportation or long way journey. The City maintains a distance about 72 km from Cochin, 131 km from Coimbatore and 144 km away from Kozhikode.
Travel by Railways
Thrissur is under the control of the Southern Railway Zone of India. There are two major railway stations in Thrissur namely the Thrissur Railway Station, one of the busiest stations in Kerala provides trains to three directions and and anotheris Poonkunnam Railway Station. There have also two minor stations in Thrissur, Ollur Railway Station and Mulankunnathukavu Railway Station. Southern Railways are planning a suburban railway system connecting Thrissur to Kochi and Palakkad for better communication.
Travel by Airways
Cochin International Airport is the nearest airport to the Thrissur city located about 53 km away. Some other nearer airports are Karipur International Airport (Calicut) and Coimbatore Airport which respectively 78 km and 112 km away from Thrissur. These airports are served by the regular flights from major Indian cities like Chennai, Delhi, Mumbai, Bangaluru, Calcutta, etc. several international flights also available here from/to the Middle East cities of world like Bahrain, Muscat, Sharja, Jeddah, Riyadh, Doha, etc.
Place to sea or Tourism in Thrissur District
Being the cultural capital of the state, Thrissur is very popular to celebrate lots of cultural festivals throughout the year. Which attract highest number of local tourist to the city respect to other cities of Kerala. Major festivals of Thrissur are Pooram, Christmas, Onam, Easter, Eid, etc. Among these the festival of Thrissur Pooram and Onam are most popular in this city. Pooram is celebrated during mid-April to mid-may and a special event in Onam is performed named Puli Kali which attract thousands of tourists.
Vadakkunnathan Temple also called as Tenkailasam, is an ancient Shiva temple located at the city heart of Thrissur. It was constructed on an area of 9 acres with the typical Kerala architectural style. Several religious paintings of the holy Hindu epic Mahabharata are depicted inside the temple. It is believed that the temple was built by Parasurama, the sixth incarnation of Vishnu and now it is the main venue of the festival Thrissur Pooram.
Kauthuka Park is situated at Chalakkudy in Thrissur District. This is a lovely garden established by Mr Varkey Veliyath's. You will find that the whole landscape of the park is decorated with small several main made hills, streams, caves and varieties of trees include some medicinal plants. Kauthuka Park is about 6 km away from Chalakudy railway station and just 17 km away from Cochin International Airport.
Bible Tower: It is a church tower placed at Thrissur City in the state of Kerala. This tower is about 260 ft high, Asia's tallest tower constructed on 7th January, 2007. If you enter to this city then this tower will be visible to you from any parts of Thrissur. The church is decorated with several paintings of Jesus on woods or canvases of the church wall like his childhood, sufferings and the resurrection are depicted on church's wall.
Chavakkad is a small town located about 24 km away City Center. Major tourist's attractions of the town are a beautiful sandy beach and St. Thomas Church. Chavakkad Beach is just 2km away from city hub on the coast of Arabian Sea. It is one of the finest beaches in Kerala as well as in south India. The scenic view of Azhimokam or the meeting place of a local river in to the Arabian Sea is most attractive in the beach.
Dream World Water Park specially based on water theme include entertaining attributes like the Striking Car, Go Kart, Sky Train, Flying Columbus, Baby Car, Caterpillar, Dragon Train, Revolving Barrel, Dream Shower, Zoom Ride, Space Bowl, Crazy Cruise, Mat Racer, etc. These Park is located about 6 km away from Vazhachal.
Guruvayur Sri Krshna Temple is one of the finest Krishna temples in the state of Kerala. It is located at Guruvayur Town in Thrissur District and it often refers to as the Holy Abode of Krishna on Earth. Krishna is also called here in different names like Kannan, Krshnan, and Guruvayurappan by the natives of Kerala.
Kerala State Museum is located Thrissur City just 2 km away from Railway Station. The museum was built on an area of 5.6 hectors in 1885 when British rulers took control over the city. You will find here lots collection of sculptures, religious idols, traditional jewelers of the state and many more.
Thrissur Zoo is addressed just next to Thrissur Art Museum. This zoological garden contains lots collection of snakes like the King Cobras, Kraits, Pythons, Vipers, Rat Snakes include some other species animals like tigers, lions, sloth bear, deer and many types of birds.
Shakthan Thampuran Palace is located just 2 km away from Thrissur Railway Station in Kerala. It is a two storey building constructed in the Naalukkettu style with Italian marbled floors. There has also an archaeological garden just in front the palace.
Lourdes Cathedral was constructed by Dutch Navigators during the pre-colonial rule at Thrissur district. This church is dedicated to Our Lady of Lourdes and known as one of the largest churches in Kerala, South India.
Vilangan is a small beautiful hillock located just 6 km away from Trichur City Center on the Thrissur - Kunnamkulam road. It is a popular picnic spot and recreation center where lots of local tourists gather.
Some other attraction in Thrissur are The Vadakkunnathan temple, Kalamandalam Deemed University, Thrissur Town Hall, Oorakam, Thiruvambadi Sri Krishna Temple, Chimmoni Dam, Koodalmanikyam Sree Bharatha Temple, etc.
Hotels in the Thrissur City
Guruvayoor Hotels
Gurùvayoor, East Nada, Thrissur
Phone: 0487-2555244
Dáss Continental
Sakthannagar, Thrissur-680001
Phone: 0487-2446222
Ashoka Inn
T. B. Road, Trichur-680001
Phone: 0487-2444333
Hotel Niya Regency
Kanjanÿ Road, Thrissur-680012
Phone: 0487-2365095
Hotel Trichur Towers
T.B Road, Thrissur-680021
Phone: 0487-2425290
Kanus Residency
East Nada, Trissur-680101
Phone: 0487-2551800
Hotel Palace Tower
North Bus St, Trichur-680020
Phone: 0487-2331666
Elite International
Chembotil Lane, Trichur-680001
Phone: 0487-2421033
Joys Palace
T.B.Road, Trichur-680021
Phone: 0487-2429999
Pearl Regency
Near Railway St, Trissur-680001
Phone: 0487-2446661
Hotel Casino
Koorkencherry, Trichur-680001
Phone: 0487-2424699
Ammu Regency
Marar Road, Thrissur-680001
Phone: 0487-2443350
Premier Lodge
Chembotil Lane, Thrissur-680001
Phone: 0487-3249109
Hotel Doublex
Post Office Rd, Thrissur-680001
Phone: 0487-2420029
Coconut Island
Round South, Trichur-680001
Phone: 0487-2420556
Love Shore Inn
Railway St, Thrissur-680004
Phone: 0487-2386606
General info of Thrissur City
| | |
| --- | --- |
| Country | India |
| State | Kerala |
| District | Thrissur District |
| Area | 101.5 sq km |
| Population | 325478 (census 2011) |
| STD Code | 0487 |
| ISD Code | 0091487 |
| Languages | Malayalam, Tamil, English, etc. |
| Climate | 22°C to 35°C |
| Best season to visit | Any time, best in Winter and festival time of Pooram |
| Targeted Railway Station | Thrissur Railway Station |
| Airport | Cochin International Airport |